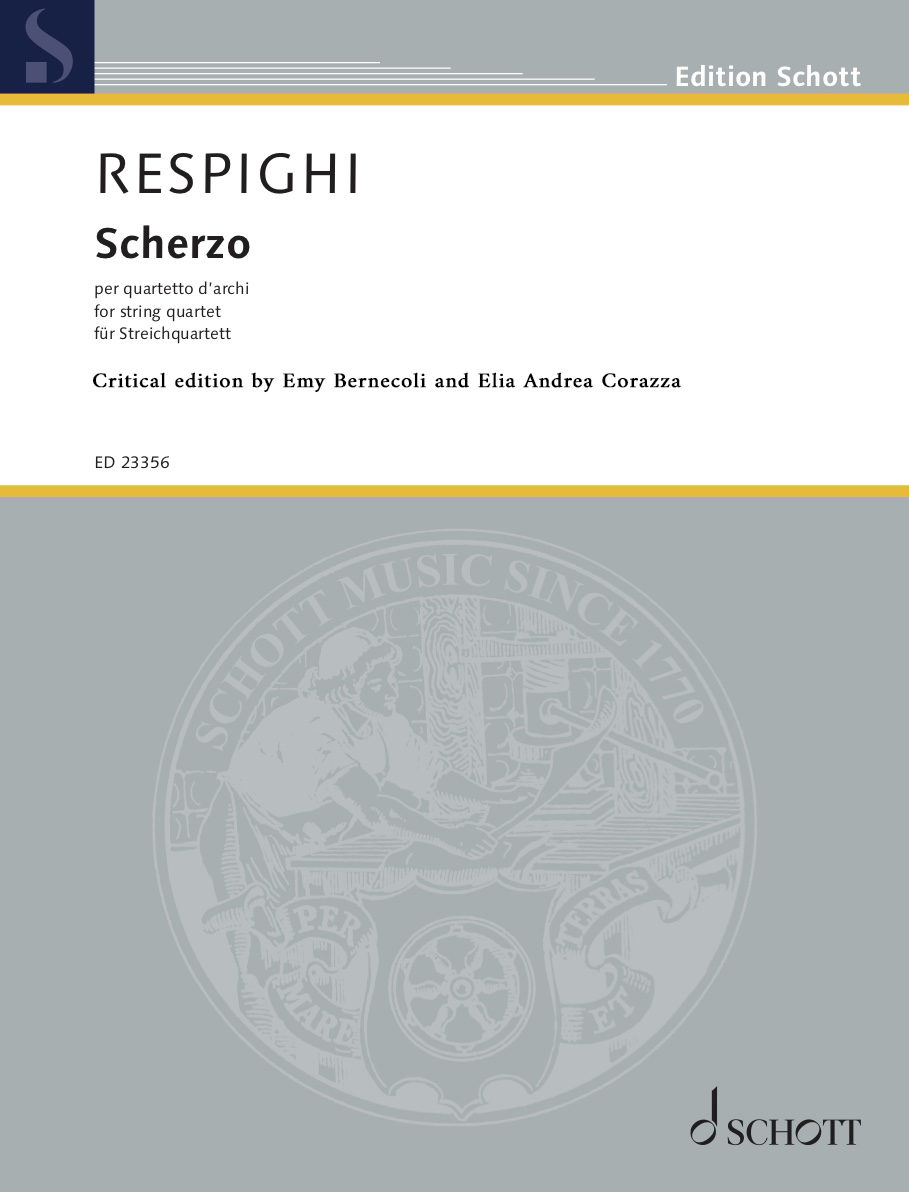 PREFACE by Emy Bernecoli and Elia Andrea Corazza
This is the first edition of the Scherzo per quartetto d'archi (P191). The source materials are located at the Biblioteca e Museo della Musica di Bologna (Italy) (MS.RESPIGHI.65) and are constituted by the four string parts without any score (first violin, second violin, viola and cello). Elsa Respighi, wife of Ottorino Respighi, attributed the authorship of this piece to her husband, entrusting Potito Pedarra, Respighi's cataloguer, its cataloguing.
The parts are undated and are written by an anonymous copyist. The musical contents suggest that this is a juvenile composition of the composer while student at the Bologna Conservatory. The central part of the Scherzo consists of a canon at the octave between the first violin (dux) and the viola (comes) at the distance of a quarter note. Obvious errors made by the copyist have been amended in this edition.
Questa è la prima edizione dello Scherzo per quartetto d'archi (P191). Il materiale si trova nella Biblioteca e Museo della Musica di Bologna (Italia) (MS.RESPIGHI.65) ed è composto di quattro parti staccate (violino I, violino II, viola e violoncello). Elsa Respighi, moglie di Ottorino Respighi, ne attribuì la paternità al marito, affidandone la catalogazione a Potito Pedarra.
Le parti sono prive di datazione e sono redatte da un copista anonimo. I contenuti musicali fanno presumere si tratti di un'opera giovanile, forse un compito scolastico e contrappuntistico del compositore bolognese allorché studente presso il Conservatorio di Bologna. La parte centrale è infatti caratterizzata da un canone all'ottava tra violino I (dux) e viola (comes), a distanza di un quarto. Evidenti errori di copiatura delle parti sono stati emendati in questa edizione.